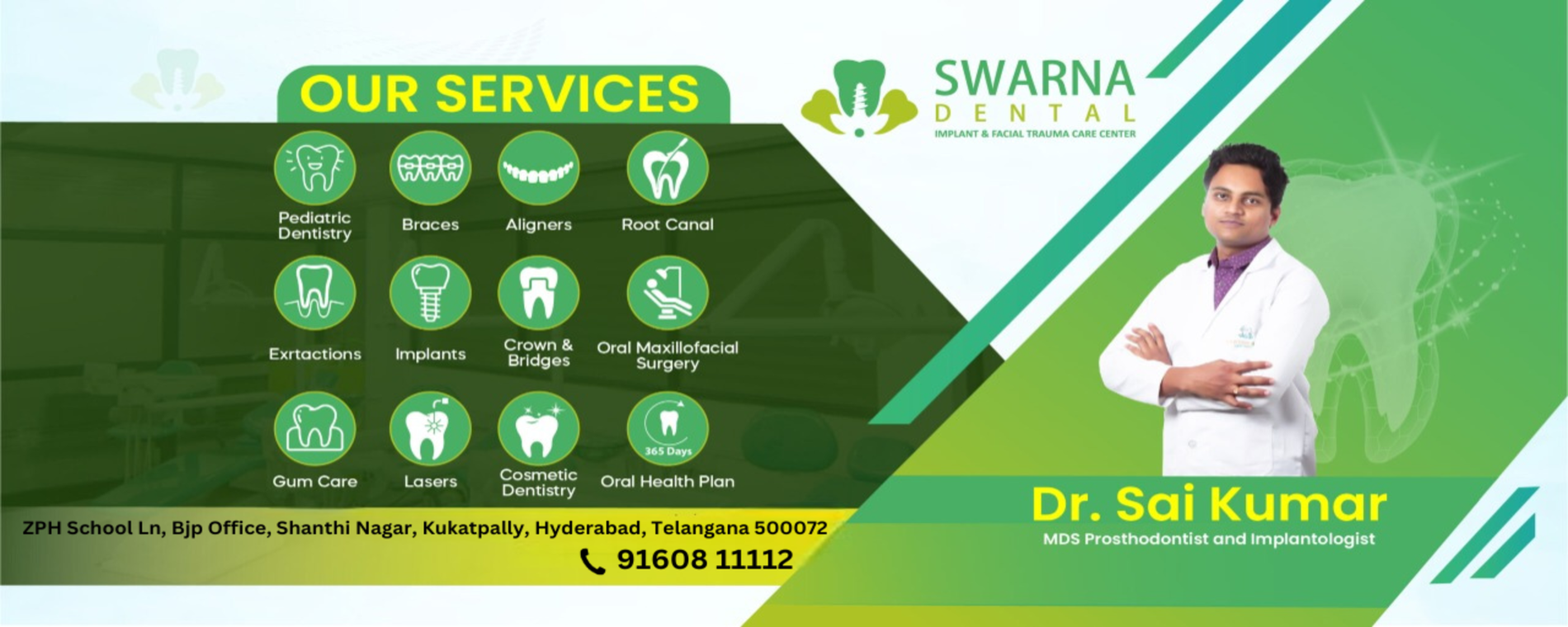 ZPH School Ln, Bjp Office, Shanthi Nagar, Kukatpally, Hyderabad, Telangana 500072 (1) (1)
Swarna Dental Hospital offers prompt and reliable emergency dental care services. Whether it's severe tooth pain, a broken tooth, or any urgent oral issue, their expert team is prepared to handle emergencies efficiently. With state-of-the-art facilities and a compassionate approach, patients can trust Swarna Dental Hospital for immediate attention and effective solutions to alleviate discomfort and restore dental health.
Swarna Dental Hospital's doctors' timetable ensures efficient and accessible dental care. Our dedicated team of skilled dentists follows a well-organized schedule, accommodating patients' needs throughout the week. With a focus on timely appointments and comprehensive treatments, we prioritize patient convenience and satisfaction.
At Swarna Dental, our focus is on providing personalized and compassionate care to our patients. 
Monday: 10:00 AM – 8:00 PM
Tuesday: 10:00 AM – 8:00 PM
Wednesday: 10:00 AM – 8:00 PM
Thursday: 10:00 AM – 8:00 PM
Friday: 10:00 AM – 8:00 PM
Saturday: 10:00 AM – 8:00 PM 
Sunday: Closed
Welcome To The Swarna Dental Clinic
The Swarna Dental Experience
At Swarna Dental, we understand that every patient is unique, and we tailor our treatments to meet your individual needs and goals. From routine check-ups to advanced restorative procedures, our comprehensive range of dental services ensures that you receive the best possible care for a healthy and beautiful smile.
Schedule your appointment today and embark on a journey towards optimal oral health and a radiant smile that you can confidently share with the world.
Excellence in Dental Care
Excellence in Cosmetic Dentistry
Experienced Staff
Caring and Comfortable Surroundings
Flexible Payment Options
Exactly What Facilities We Provided
Standards of Treatment
We provide standard treatment & best medical facility in clinic.
Infection Prevention
We provide infection prevention & best medical facility in clinic.
Quality of Care Services
We provide a quality of care and best medical facility in clinic.
Patient Experience
We have the patient experience and best facility in the clinic.
Well Communication
We provide well communication & best medical facility in clinic.
25+ Years Experience
We have a 25+ Years Experience and best facility in the clinic.
What People Say About Swarna Dental Clinic
Gud treatment and quick response
Pavan Kumar Kotha
2023-07-15
Experienced Doctor and staff, Good and comfortable service, value for money and suitable for all kind of Dental problems.
sravan Yamsani
2023-07-14
Dr. Sai Kumar is the best doctor and well experienced into all the segments for teeth. I can just say a smooth and painless treatment is offered here.
Kurapati Chinni
2023-02-16
Dr.sai Kumar is the best dentist in Kukatpally..thank you soo much for the excellent dental care...thank you for giving me back my smile..I would definitely recommended this clinic ..
INDRAJA RAGANOLA
2023-02-11
Dr.sai Kumar was very good doctor,staff was good.overall good .
VENKATESWAR REDDY KASIREDDYSIDDAMMA
2023-01-09
Caring of patients are good
Lakshmi Bhavani
2023-01-04
It was a pleasant experience. He is very professional and takes time to explain what needs to be done and provides valuable advices.
I visited swarna dental clinic because of severe tooth pain. Dr.sai Kumar explained very well about my tooth condition and about the treatment procedure. I underwent root canal treatment it was painless. i am happy visiting here